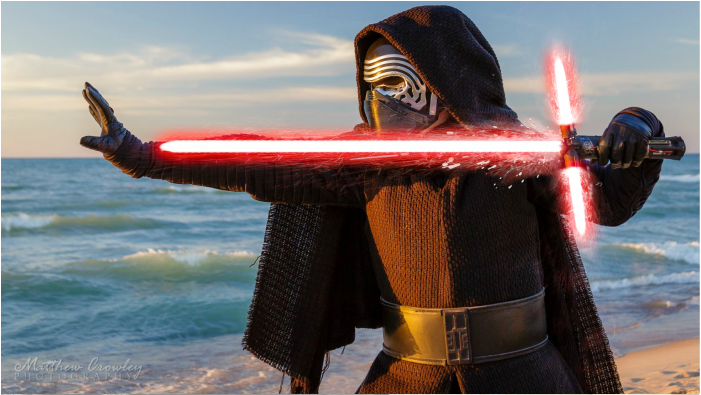 **DECEMBER 8 UPDATE**

I am now offering the v2 dented helmets as standard. I only have a few cellphone pictures at the moment, and will probably not have any pretty pictures until after the movie opening.


If you are looking to complete your Kylo Ren costume, you have come to the perfect place. However, if you are looking for a FULL Kylo costume, this is not the place. Unfortunately, while I did make my own costume, from head to toe, I do not have the time to offer all of the pieces to everyone else.
Because I make all of my costume pieces myself, I do not know what the full internet market offers. So I would not know where to redirect you for any pieces I do not offer.
I can only offer you two things: the belt and the helmet. Technically three things, if you would like to buy the belt buckle itself.
The helmet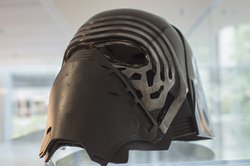 Here you will find, in my opinion, the most accurate representation anywhere. I originally built a helmet from leaked images, wore it to Celebration, and it didn't end there.
Once there, I was able to see the actual costume in it's entirety. I took a ton of pictures from all angles, as well as videos and notes. After I returned home, I immediately began reworking the whole helmet (and costume). This was the version 1 (technically version 2) helmet I had offered up until this point. Not long after that, I slowly started working on an all new sculpt, in an attempt to iron out tiny details, that had bothered me. Then the toys were released.
After looking at the full exposed dome, I realized how close I actually was the first time. So I scrapped the new clay sculpt, and merely made slight changes to my existing helmet, thus creating version 1.5.


Complete Kylo Ren helmet
$450 plus shipping


---
Chrome series (v2) gallery
Kylo Ren kit helmet
$300 plus shipping
The belt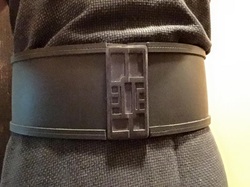 Each 5" wide belt is made of double thick leather and has a velcro closure in back, as well as the velcro in the front with the resin buckle. All "stitching" is embossed with a faux stitch. The back allows for =/- about 3" from the size provided. So please include a notation in your order with the size you'd like.

$200 plus shipping
---