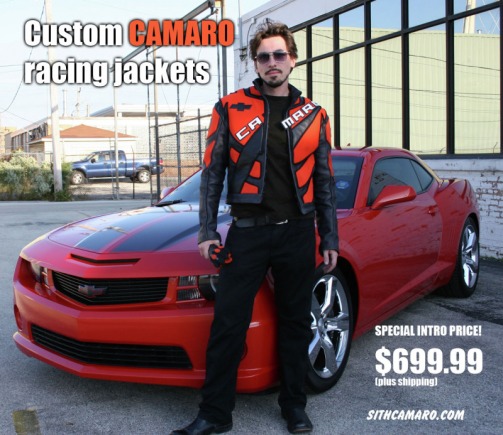 Custom Camaro race jacket
The one & only!


Based on the highly popular Tony Stark Monaco race jacket, this jacket will turn heads everywhere. Want a little something extra to match that car you've modified to your own liking? How many drivers do you know who have something to wear that compliments their car? These jackets are customizable a million and one ways:
color
length
sleeve design/shoulder patch/number
even the CAMARO name can be replaced with anything else!


Every jacket is custom sized to the buyer's specific measurements.


Would you like it longer? It can be done!

Would you like it to be more loose fitting? It can be done!

Different color leather? Different colored panels? DIfferent colored piping? It can ALL be done!

And now you can take advantage of the special introductory price of $699.99 for a base leather with poly components.
Also available in vinyl for $499.99!